How to Enable PHP Zip Archive Module on GoDaddy's Shared Hosting?
PHP zip archive is a process or tool installed on your web hosting server that enable PHP script / command to archive a file or zip and unzip a file or you can say compress a file and extract a compressed file. Now your must be thinking that why do you need to compress or extract a compressed file on your web hosting server? Well, if you were to simply upload one or two files of small size then you would simply use file manager in your hosting cPanel or upload the file using FTP client like FileZilla or Core FTP. What if you have to upload hundreds or thousands of file in order to migrate a website to a new hosting server or you need to download the complete backup of your site. In either of the situations, you will need to upload multiple files one by one as file Manager and FTP clients like FileZilla transfer them one at a time and you will have to wait for too long for the transfer queue to be completed. This is why everyone prefer to compress all the files before uploading to a server or downloading from server. Compressed files are smaller in size and transfer very quickly. However, some of the web hosting providers like Godaddy does not support the PHP Zip archive feature by default and it becomes a headache when migrating a website or taking full backup of your site from such hosting services. In this post, I will show you a very simple method to enable PHP Zip Archive Support Module on your shared hosting from Godaddy.
Before we move further, let's quickly recap why and when do we need PHP Zip archive to be enabled on our hosting account?. We need the PHP Zip Archive support utility to be working or enabled on our hosting account in the following cases:
To quickly upload multiple files on your hosting server.
Migrating the whole website from one server to another
Changing the hosting service provider
Installing software such as CRM, Online Forum etc.
Installing a custom theme or manually updating a plugins.
Backing up the whole site or restoring it.
Using duplicator plugin for WordPress site migration.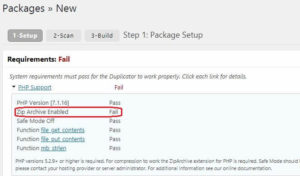 To Enable PHP Zip Archive Support Utility on Godaddy's Shared Hosting
1. Simply login to your GoDaddy account and go to My Products menu.
2. Click "Manage" button next to your hosting service.

3. Click on "cPanel Admin" button at the top right.

4. Now you will be in the cPanel Administration setting. Look for section called "Software" and choose option "Select PHP Version".

5. Now make sure you have selected the latest working PHP version from the drop down list and check the box next to Zip option, which is the second last in the list.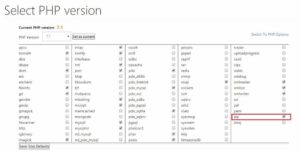 6. Click on save button at the bottom left and you are done. There is one more thing to do for the changes to take effect.
7. Go back to Software section and this time select "PHP Processes" option then click on "Kill Processes" button to restart the PHP processes and to make changes take effect.

After following all the above mentioned steps, I went back to WordPress admin area and tried to run duplicator. And much to my delight, it worked just fine.
For those hosting service providers where you do not get an option to select PHP version and simply enable the Zip module. You will need to install the Zip Archive module separately manually. Here is how you can do that:
1. Go to cPanel Admin and choose "PHP PEAR Packages" under software section.

2. Now type keyword "Zip" in the box next to "Find a PHP Extensions and Applications Package" and click "Go" button.

3. Click Install next to module named "Archive_Zip" and wait for a minute or two.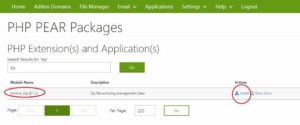 4. Go back to Software section of cPanel Admin.
5. Select PHP Processes and kill all the processes for the changes to take effect. Try using the archive or compress and extract feature in your hosting account now.
If none of the above method works with your hosting service provider, I suggest you call their technical support department and simply ask them to enable PHP Zip Archive module on your hosting account. They should do it in a minute. I hope this article fixed your problem. In case you are still facing the same problem with GoDaddy hosting or you are getting some other error message. Please share the details with us through the comment section below and we will try to find the best solution for you.
If you like my content or it helped you fix your problem, please consider buying me a coffee. Thank you for your support!
Godaddy tomcat error log jobs
My recent searches
Local Jobs
Featured Jobs
Recruiter Jobs
Full Time Jobs
When users visit my website Google Chrome does not permit it. ERROR: NET::ERR_CERT_DATE_INVALID I need AWS expert to resolve my issue ASAP. NO ACCESS TO INSTANCE VIA SSH!
Need fixed ASAP. For some reason, basic react native commands stopped working I see and this is an error in my xcode – [login to view URL] does not exist. This must be a bug with + echo 'React Native, please report it here: [login to view URL]'
hello I have a website that is coded in React.js it was a template purchased buy my boss and I'm looking to add a secure user management functionality for people to log in and out of, make purchases, and write reviews. Our timeline is to have this done by March 15, 2019. We would like it in php but truly I'm new to the development field and I have never
Need a professional email template that can interchange with seasons and events.
. chat application that needs to be further developed. Requirements: – This is a Netbeans project and should be further developed on Netbeans (NO other IDE) – Must use Apache Tomcat server – Must use simple bootstrap in JSPs and Servlets (NO other framework should be used) – The directory of the code must be kept the same and NO extra files JSPs or Servlets
A logo for a large scale steel fabricator specializing in welding and complex projects
Hello, need developer to take a look at recently migrated site, and fix issue on 2 pages that are not populating all content. Site is JAVA application running on Tomcat Web Container deployed in a Linux server. Thank you.
I have a wordpress site hosted on Godaddy that I want to move to Bluehost. Having issues with Godaddy hosting so the site is not up but I do have access to all the backend. Need someone who can move it to the new hosting.
. getting notified of new messages when they come in? Are you a fluent English speaker (bonus if you can also speak Spanish) with a smart phone capable of using Smart Line from GoDaddy (your smart phone must have a U.S. phone number)? Are you comfortable speaking to prospects about a service/product if a script and training are provided (you're not required
I have some problem on my website www.ose.al. Website is online but admin panel is strange behaving. My budget is 30€. Less than 48 hours of work, Payment after Admin panel is 100% working!
locating the error in my source and fixing it, more details on a private message
Hi We need a magento 2 expert to resolve an error "Environment emulation nesting is not allowed." while sending abandon cart emails.
Hello, need developer to take a look at recently migrated site, and fix issue on 3 pages that are not populating all content. Site is JAVA application running on Tomcat Web COntainer deployed in a Linux server. Thank you.
Integrate facebook and google log-in in my app. I have a app published on play store and i want to correct code of facebook and integrate google log in as well. Should work on teamviewer.
Need help installing sql express on a windows server 2019 When installing i get this error in picture I will provide team viewer access start comment with sql19
SMTP Error: Could not authenticate. in wamp server
I need an Android app. I would like it designed and built.
Hello, I want iPhone App that log every incoming call "Number + Name" to mysql via HTTP API. App should work and send incoming call details immediately after phone receive call (in ringing state).
Anyone expert in making java soap webservice api using tomcat server
. shows where the player is on the map with a white dot and where other players are on the map with a grey dot. Doesn't have to be exact but relatively speaking 4. We need a chat log implemented above the bottom toolbar that stores everything that other players say that are within the screen of the player. 5. We need a health bar that sits above the sprite
. have access to send a message to him/her directly at any time, or reserve an appointment for live chat, voice call or video call. As an existed client, you will only need to log in using your username and password. Then you will have access to complete your existing chat with your chosen counselor directly and at any time, reserve an appointment for
Hi, we have a Magento 2 store and we're trying to add this Royal Mail feature called 'Click & Drop' to the store. https://help.p. feature called 'Click & Drop' to the store. [login to view URL] Can someone help fix this error we see when activating? (see screenshots)
How me how to set up my node.js app with my Godaddy SMTP cpanel account using nodemailer and configure the base64 plugin.
Anyone expert in making java soap webservice api using tomcat server
come up with a logbook consisting of following:- 1. Design brief 2. Spider map/mind maps 3. Human factors & Ergonomics 4. Qualitative Research 5. Market Study 6. Product Positioning 7. Mood Board 8. Design Overview 9. Free hand Sketches 10. Detailed foam models 11. Manufacturing Process 12. 3d/3d max sketches
I created a simple project using Resn. h file in viewcontroller.m, but still when I build it keeps on giving linker filer error: Undefined symbol VNCoreMLRequest and VLCoreMLModel. I imported CoreML framework, so in build phases imported the model Resnet50 – so not sure what else is wrong. JOB: Fix error and send me updated XCODE objective c project.
I have three websites on GoDaddy Go Central, each representing a separate business line – they are separate activities and will never be connected. I have three gmail accounts – one for each. I have one Google Ads account. For autoresponders. I am thinking about getting a) GetResponse or b) combining Aweber and Click Funnels. I'd like all three
. the one fits her schedule, login to her account, pay for it and add it to her dashboard – She will explore her account and its features (what is offered) – Then a teacher will log to his dashboards and launch the class when class start time arrives – The student will join the class from her dashboard and meet her teacher in a classroom to start lesson
. would like to make the following modifications; [login to view URL] option to duplicate event for complete year on specific day/time 2. Add drip email options 3. correct confirmation email error to send with all available options 4. add option to put groupon code in checkout and system will redeem groupon using groupon api [login to view URL] product upsell option at checkout, wher
I need the help of a programmer to design and develop a monitoring and alerting system using FluentD, Graphite, InfluxDB/Cassandra and Python. Experience with Kafka, Grafana and Spark may also be required.
Our website is having word press plug in? issues. We are unable to gain access to the WPadmin login page (http error 500). We have tried a backup restore. Website is hosted through Godaddy.
Some times while refreshing in the Play developer console. Google Warning regarding the SMS or Call Log permission is showing but in my Android Manifest don't have these permissions and also no permissions in Merged Manifest file..Fix this ASAP.. And also fix some bugs and crashes.. Only Bid If you are clear about the project..
This will be primarily an e-commerce store but I will also have a small retail space. It's called Access . tanning product, eye shadows by Syndsey Grace (indie brand), professional makeup brushes and tools for example. My personal web site is [login to view URL] which I designed on GoDaddy. I will of course have a new web site for Access Cosmetics.
There is a website that has made in PHP and we are facing some problems. Kindly notice that the website is in the Urdu language.
I need some changes to an existing website. I need you to build it.
We have a membership website. . the basics. We want 2 main objectives: 1) Automation, as little hands on from Home25 Admin as possible to get a members page posted on the website. 2) Members the ability to log in and edit their page info anytime they wish. In the Pdf attached, the Member page is the middle section, not the black header/footer areas.
I need an application to generate travel log based on car petrol consumption, location of the petrol station, amount of petrol filled, list of destination addresses. The application need to setup the following static parameters 1. Car petrol consumption 2. Car base parking location 3. Daily travel kilometer limitation 4. List of petrol receipts (Location
. MercadoPago y de impuestos). Estos datos yo luego los grabaría en mi base de datos (pero eso lo manejo por mi lado). Todo esto debe poder ejecutarse en sitio hosteado en GoDaddy (lo menciono por si hubiesen restricciones de implementación). Muchas gracias.
. MercadoPago y de impuestos). Estos datos yo luego los grabaría en mi base de datos (pero eso lo manejo por mi lado). Todo esto debe poder ejecutarse en sitio hosteado en GoDaddy (lo menciono por si hubiesen restricciones de implementación). Muchas gracias.
Tengo un sitio web en de 1and1, el dominio lo tengo en godaddy, me gustaría que me ayuden a configurar mi servidor, al igual que el certificado, en un ubuntu 18.
Troubleshoot a media upload error in WordPress
The WordPress Dashboard can give several errors when trying to upload media files, and there are multiple possible causes of these errors. You may need to try a few fixes before you can upload images and media again.
Confirm your file does not exceed the maximum upload limit for your shared hosting plan.
If so, you will need to reduce the size of the file before uploading it again.
If not, but the file size exceeds the default PHP limit, then you can increase it.
If the issue persists, then increase your php memory limit to 256M.
If your php settings are not the issue, then the next step is to confirm WordPress is trying to upload media to the proper folder and that folder has the correct permissions.
Log in to WordPress .
On the left navigation bar, click Settings.
Under Settings, click Media.
Confirm the path in the "Store uploads in this folder" area is correct for your WordPress site. For example:
AbsoluteHostingPath is the absolute path for your hosting account. (
)
SubFolder is only necessary if you have installed WordPress to a sub folder.
Confirm the /SubFolder/wp-content/uploads folders all have "Write" permissions. (
Note: On cPanel Hosting only the User group should have Write permissions.
If you are still unable to upload media through the WordPress Dashboard, the next step is to determine if one of your plugins is causing the problem.
Log in to WordPress .
Deactivate all of your plugins.
Trying uploading your media file again.
If you can successfully upload a file, then activate your plugins one at a time until you find the one causing the issue.